https://oklahoma.rivals.com/news/riv...ts-to-oklahoma
Rivals250 QB Jackson Arnold commits to Oklahoma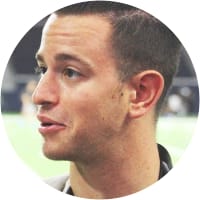 Sam Spiegelman •
Rivals.com
National Recruiting Analyst
@samspiegs
Texas' top-ranked junior quarterback is off the board.
Jackson Arnold
, a Rivals250 passer out of Denton (Texas) Guyer, committed to
Oklahoma
on Monday. A top-10 quarterback in the 2023 class, Arnold is the first splash on the recruiting trail for first-year Sooners head coach
Brent Venables.
Offensive coordinator
Jeff Lebby
, who spearheaded Arnold's recruitment at Ole Miss last year, also figured prominently into the equation.
The 6-foot-2, 195-pound Arnold picks Oklahoma over aforementioned Ole Miss, TCU and Notre Dame. He joins
DeAndre Moore
and
Joshua Bates
in the Sooners' haul
Arnold admittedly grew up with a fondness for the Sooners, but previous coach
Lincoln Riley
secured an early commitment from five-star California quarterback
Malachi Nelson
over the summer. With Riley now at USC, Nelson shortly followed suit to play for the local powerhouse.
That opened the door for Arnold to do the same in Norman. Here's more on his decision: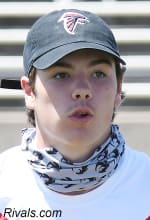 170
NATL
26
ST
9
POS
JACKSON
ARNOLD
VERBAL COMMIT
1/24/2022
OKLAHOMA
6'2" | 195 LBS | PRO QB | 2023
GUYER
DENTON, TX
5.8
IN HIS OWN WORDS
On his commitment:
"The thing about Oklahoma -- before they even offered I had interest. My friends are Oklahoma fans and they wanted me at Oklahoma, but it was a completely different staff and they had a quarterback (committed). Coach (Lincoln) Riley left and Coach (Jeff) Lebby and Coach (Brent) Venables came in. I had a strong connection with Coach Lebby at Ole Miss and it was one of my top schools."
On Lebby's offense:
"His offense operates a lot like our (Guyer) offense now with wide splits, the RPO game, twist routes and Coach Lebby is a great coach and a great guy. He's always making jokes and he's fun to be around. Sure, all coaches are nice but he keeps it real. I'm gonna learn a lot under him and he has a lot to teach me, so I'm excited."
On Venables:
"What Coach Venables had to say when I was down there ... I have a lot of trust in him. As he says, 'Defend the standard.' We're gonna keep Oklahoma as a powerhouse. He's a very optimistic person. He has only good things to say about the program, about Clemson. He came from a bad background and that's what built him up, and I think he's perfect for Oklahoma. He's high-energy, optimistic and demands the best of you."
On his January visit to Oklahoma:
"The facilities are obviously impressive, but most people know that. It wasn't necessarily a huge factor for me, but it was super nice and the architecture is really cool. The whole campus is pretty -- and that was without leaves on the trees - so I'm sure it'll look even better in the fall, and the stadium and everything was impressive."
On winding up at Oklahoma:
"People in my area are some of the biggest Oklahoma fans ... my best friends, their moms and dads, and that's kind of where my interest came from. That put Oklahoma on the map for me -- watching the games and as I watched the games, my interest just grew."
RIVALS REACTION
Arnold became a household name in the Metroplex after stepping in for an injured Eli Stowers two years ago and drawing his first start against Austin Westlake in the Class 6A state title game. Now entrenched as the QB1, Arnold was the area Player of the Year after throwing for 3,931 yards and 34 touchdowns compared to five interceptions. He tacked on another 659 yards n the ground and 12 more scores.
A highly proficient game operator, Arnold completed better than 66-percent of his throws a season ago leading Guyer back to the state championship game. He's a playmaker with his ability to make plays with his arm and legs and is wildly efficient at the helm of the Guyer offense. Arnold flashed the ability to make throws from the pocket and on the run under duress -- with a high level of success -- and consistently keeps his eyes glued downfield and finds holes in the offense.
Arnold made a major leap as a junior and elevated his game throughout the season. He's the clear-cut QB1 in the Lone Star State in the 2023 cycle with a very impressive body of work and all the tools to thrive in a familiar Lebby offense.